The New High Sheriff Lorraine Worsley-Carter with the Chief Constable Stephen Watson and members of the GMP mounted and Canine Unit , at her Lowry Salford Installation ceremony.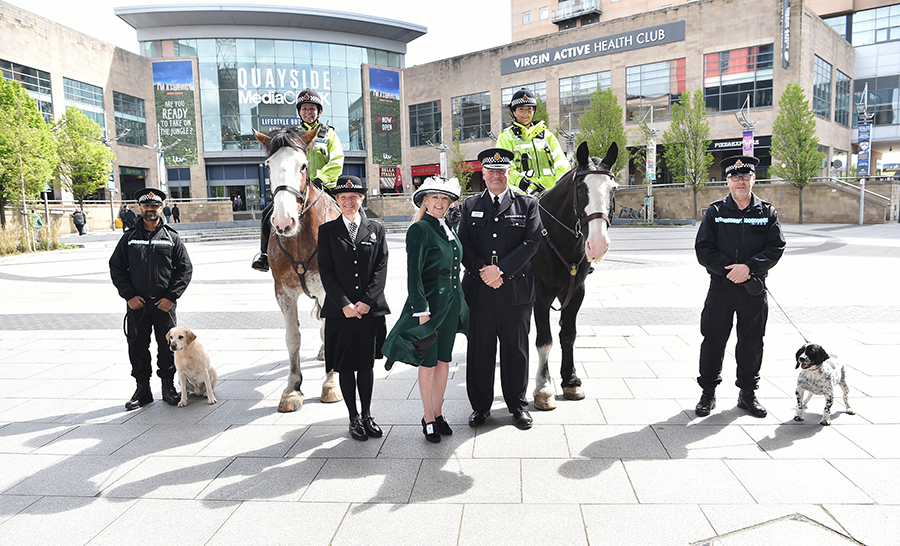 England Cricket captain Michael Vaughn joins High Sheriff Dr Robina Shah and Glen Lockett for a charity lunch at The Sporting Club Manchester.
The installation of the new High Sheriff for Greater Manchester, Robina Shah, with 2 Sword Bearers.
Unveiling the Blue Plaque at the Garden House in Marple.
Chinese New Year Networking Event 2018
VIP guests, the Chief Constable, Deputy Lord Lieutenant and Local Mayors attended a networking and celebration event at Hough End Police compound. They were celebrating the Chinese New Year of The Dog, with High Sheriff Gerry Yeung.
Guests viewed Demonstrations by the GMP Dog and Mounted Unit.
Greater Manchester High Sheriff's Christmas Ball 2017
During the festive period we held the annual High Sheriff's Christmas ball at the Renaissance Hotel Manchester. With dignitaries such as the Mayor of Stockport, ACC Sykes and even Strictly Come Dancing's very own Brendon Cole's dance partner Faye Huddleston attending! This event, with a great cause was nothing but successful. A fabulous time was had by all with entertainment by the Greater Manchester Police Band and singer Rick Moorhouse.
Ken Taylor Memorial Suite Official Opening
During 2015, The Greater Manchester High Sheriff's Trust was bequeathed a legacy in excess of £2,000,000 by the late Ken Taylor. Ken was the son-in-law of ex Deputy Chief Constable of Salford, Mr John Armstrong Welch. Ken had supported GMP over many years including the funding of the memorial gardens at Sedgely Park.
In memory of Ken, The High Sheriff Mr Gerry Yeung and Ken's Sister-in laws Barbara Donley and Mavis Conrad, who flew in from Switzerland opened a memorial suite in his honour.
The Ken Taylor Memorial Suite will now be used as an integral part of the Police Museum, in supporting training and as an accessible room for all.
The Greater Manchester High Sheriff's Police Trust will be forever indebted to Ken Taylor and his family for his generous philanthropic support.
Hough End Centre
Trustees make a visit to the dog unit and horses at the Hough End Centre following recent funding from the Trust.
Garden House Marple
The Police Cadets supported the Bank Holiday fun day at the Garden House Marple. The Garden House is a recent recipient of the Trust, in supporting the local and wider community. www.thegardenhousemarple.com
Challenge 4 Change
Grant Update from Challenge 4 Change on how funding has helped them deliver their programe. A quick update from Challenge 4 Change on the award of £3,500 for part funded sessions. So far three organisations, two schools and one charity, have benefitted from sessions that were part funded by the award from the HST. This has enabled 130 young people to benefit from team and confidence building sessions to improve their self-esteem, self-confidence and problem solving skills as well as reducing any possible isolation issues. Great Stuff!
St Johns Boxing Club since our last update in April we have been working with the new volunteer coaches on building the skills required to run a session, we have recently introduced a new session on a Friday evening using these volunteers. Over the summer we have volunteers attending a digital safeguarding course so we can work with young people on internet and social media safety, we have 2 volunteers attending Ricky Hattons academy for training on organising group fitness classes and also have a 1 day sports leaders course booked for September. From September we will be ordering some GB Boxing Awards work books to use as a pathway for younger members to become involved in coaching / Volunteering. We are awaiting confirmation for 2 volunteers attending a Basic Expedition Leaders Course in September. We linked with National Boys and Girls Clubs for 10 young people to attend an Adventure Weekend in Essex in June, this was a huge success and we have already booked to take a group of 16 young people to Ormside Mill activities centre in August for 5 days as well as some 1 day holiday activities.
Haughton Green Young Peoples Centre 27/07/16 We have some fantastic results to date and hope to progress this in the weeks to follow. In addition to the many individuals and families, this has enabled us to support, we have also achieved some fantastic results in other areas of our work, which wouldn't have been possible without this funding. I have bullet pointed a few of our achievements to date:
Having volunteers dedicated and available each evening has enabled us to focus on developing our prevention work and have since linked in with Tameside General Hospital to deliver free paediatric basic life support training (poster attached)
We have increased likes on our Facebook page and are communicating with even more families through our Facebook page, email and text.
We have recruited an additional 3 volunteers who are currently being trained so they can join our 'on call' pool – they were invited to attend a recent fundraiser and help us stewarding the event (photograph attached)
We commissioned a designer to create a poster showcasing the on call project and the additional projects we are hosting this summer – again, we have attached this poster for your information.
Henshaws Grant Update 25/07/16 Henshaws were successful at our last Trustee meeting in May and provided us with this update with how the money is going to use. Since receiving the grant the Tuesday and Wednesday Social Groups have taken part in lots of fun and inclusive activities such as Musical entertain from a male voice choir and a ukulele band, music for health, an aroma quiz food tasting a call my bluff quiz. Your grant has allowed the groups to really enjoy activities that are specifically tailored to people with sight loss and allow them to meet other people who are going through the same challenges. Many of our attendees say it's much more than a social group to them, it reduces their isolation, gives them purpose and a chance to share information and their experiences. Below are quotes from two of the Tuesday Group attendees and some photos. "Without Henshaws I don't know how I would have continued. When I was first registered as partially sighted I didn't feel as if life was worth living, but Henshaws has turned my life around." Pat Monaghan, Tuesday Group. "Before I felt like I was stumbling around in the dark with nowhere to turn, but now I have a new-found confidence and a real zest for life!" Peter, 60, Tuesday Group.
Ladies Ascot Day 15/06/16  Last Thursday we held our first ever Ladies Ascot Day to raise money for the High Sheriffs Trust at the Fairfield Golf & Sailing Club. The day was hugely successful and over £2,500 was raised for the Trust. Guests arrived from noon onwards and were greeted with a glass of champagne and shown to their tables whilst the GMP Band created a great atmosphere in the room with their music. Once the ladies had all arrived it was time to place their £10 bets, which qualified them for all 6 races throughout the day. The ladies soon found themselves out on the golf club balcony taking many photos whilst waiting for lunch to be served. The lunch consisting of a starter of a warm tartlet with a red onion compote and goats cheese on a bed of rocket. This was then followed by a fresh fillet of chicken with Cajun spices served with baby new roasted potatoes feta salad and fresh rosemary. Once our guests had finished there meal and a few songs from our entertainer it was time for the races to begin!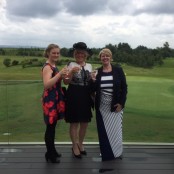 After a few winners on the first of races it was time for the first half of our raffle with numerous great prizes up for grabs. Shortly after our raffle it was time to serve the afternoon tea consisting of cakes, scones and sandwiches which were all greeted with great applause. Soon after finishing there afternoon tea it was time for the remaining races to take place. The prize money was picked up for those whose horses had won which was then followed by the remaining raffle including an auction of a signed & framed James Martin chef shirt fetching £115!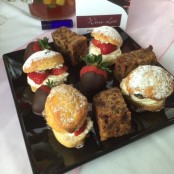 As the day was slowly coming to an end it was time for those who did not have a winning horse to drown there sorrows in chip butties. With the races over and the chip butties demolished it was time for the day to come to an end. It was a very successful day for the Trust raising thousands of pounds to help support communities in Greater Manchester and will be certainly happening again next year with bookings already being taken.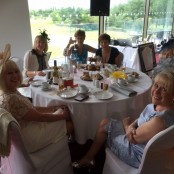 If you would like to book a place at next year's Ladies Ascot Day then please email us at HighSheriff.Trust@gmp.police.uk GMP Band to play at our Golf Day 23/05/16 We are delighted to to say that the GMP Band will be playing again at this years golf day being held on 07/10/16. At last years event the band were terrific and we recieved amazing feedback on how they created a great atmosphere to start off the day. Check out their website www.gmpband.co.uk Boys & Girls Club of Greater Manchester Grant Update 18/05/16 On the weekend of 13th to 15th May, Boys & Girls Clubs of Greater Manchester, packed twelve young people, supported by four volunteers, off to Ormside Mill where they were able to take part in a weekend of Ghyll Scrambling (walking UP a waterfall), climbing, problems solving games and team building activities and experience, many for the first time, the rural and wonderful outdoor environment that England has.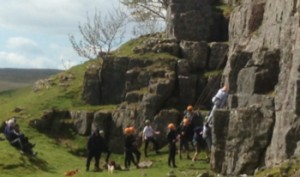 The club said "Thanks to the Greater Manchester High Sheriff's Police Trust for allowing this to take place. As well as having a great time, the lads have learned so much – how to climb, but also how to overcome challenge, team work, problem solving, communication and about the wonderful environment around them."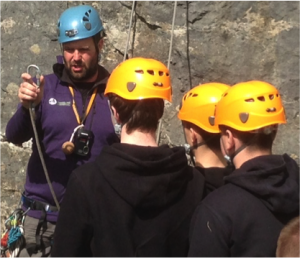 To find out more about the Boys & Girls Clubs of Greater Manchester and what they got up to with their funding from the Trust , click the link below! http://www.bgcgm.org.uk/14-latest/113-salford-ormside Richmond Street Community Centre Grant Update 16/05/16 Alan Fish from RSCC said,"It is great that the Trust has supported RSCC with a grant towards the new centre's first year costs to help to get it started, and with thanks to all the trustees who supported the grant. The new RSCC building provided by Tameside and New Charter is now in it's new home on the Richmond Street sports fields and work is going ahead to get services connected to it soon." Raheem Sterling Joins As An Ambassador 11/05/16 Manchester City footballer Raheem Sterling has been appointed as an ambassador for the Greater Manchester High Sheriff's Police Trust. He was welcomed to the team by Chairman of the Trust, Chief Constable Ian Hopkins.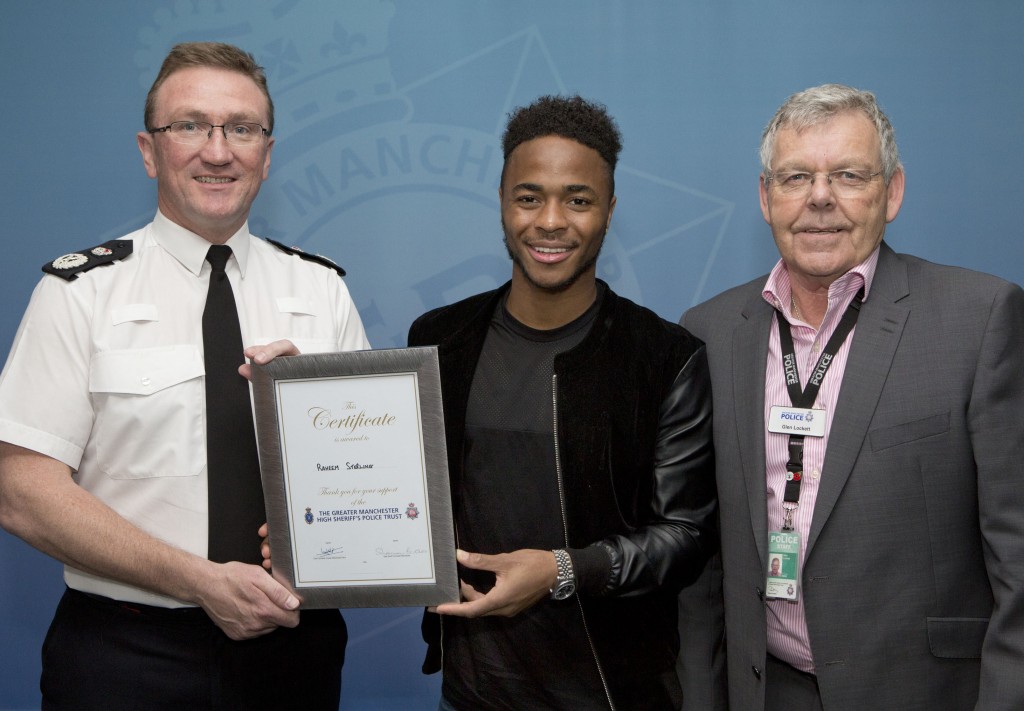 The 21 year old, who signed for Manchester City Football Club in 2015, has joined the Trust to work more closely with the community in which he spends so much of his time. Through his role as an ambassador, Raheem will attend some of the projects to see how they are helping to reduce crime and improve communities. He'll also help to promote and raise awareness of the work being done by the charity. Chief Constable Ian Hopkins said: "We're delighted to welcome Raheem onto our team and look forward to working alongside him to make communities of Greater Manchester safer. "I'm really proud of the work being done by Greater Manchester High Sheriff's Police Trust to reduce crime and make people feel safer and would like to thank Raheem for taking time out of his busy schedule to do something that'll benefit so many of our residents."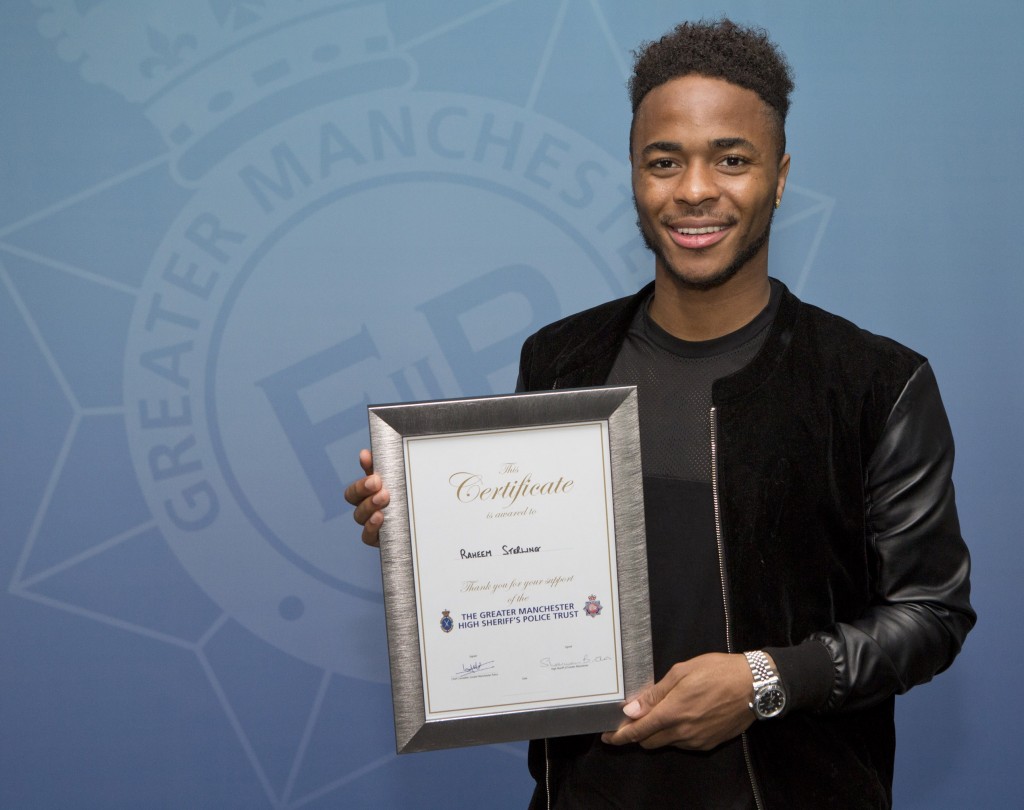 Raheem Sterling said: "This is a fantastic opportunity to make a valuable contribution to the local community. The Greater Manchester High Sheriff's Police Trust does some outstanding work in helping local people and local projects to fulfil their potential. I am delighted to be able to play my part in supporting and promoting their efforts. "Whether it be through engagement, education or social cohesion, the trust plays an integral role in reducing crime and bringing the local community together. I am proud to have been offered the chance to represent the trust and to assist them in achieving their goals. I hope that this collaboration will have a positive impact on people and communities across Greater Manchester." Click the links below to see other articles on Raheem joining us. http://www.manchestereveningnews.co.uk/news/greater-manchester-news/raheem-sterling-police-charity-ambassador-11325451 http://www.mirror.co.uk/sport/football/news/england-star-raheem-sterling-signs-7955942 http://www.dailystar.co.uk/news/latest-news/515009/Manchester-City-Raheem-Sterling-football-police-fighting-crime-England